This fully weighted, 88-key digital keyboard recreates the sound of a real piano to perfection, giving you good bang for your buck in its price category. The response and playability is incredible. The sound is remodeled after the famous Yamaha grand piano, the CFIIIS. Yamaha used the Graded Hammer Standard key to even further emulate the feel of a real piano.
The piano comes to a few different modes, such as: 2 x Grand Piano types, 4 x Electric Piano types, Jazz Organ, Rock Organ, Pipe Organ, Vibraphone, Harpsichord, Strings, Wood Bass, and Electric Bass. All these modes can have Reverb added to them by the simple touch of one button. On top of that it comes with a built in adjustable metronome and 10 drum beats to help with your timing practice. To top it off, the P-105 comes with a USB port to connect to your computer. This means that it can also act as a midi keyboard and control any sound you desire straight from your laptop. The Intelligent Acoustic Control EQ allows for a smooth volume slider, which helps deliver the same high quality sound at both low and high volumes.
Another extra feature that is used among professional players is the Dual Voicing Mode. This allows you to layer two different sounds together and play them both at once. Of course, it also comes with the standard L(Mono)/R Output as well as two headphone outputs, a sustain pedal port w/pedal and two 14 watt speakers on either side for a stereo sound.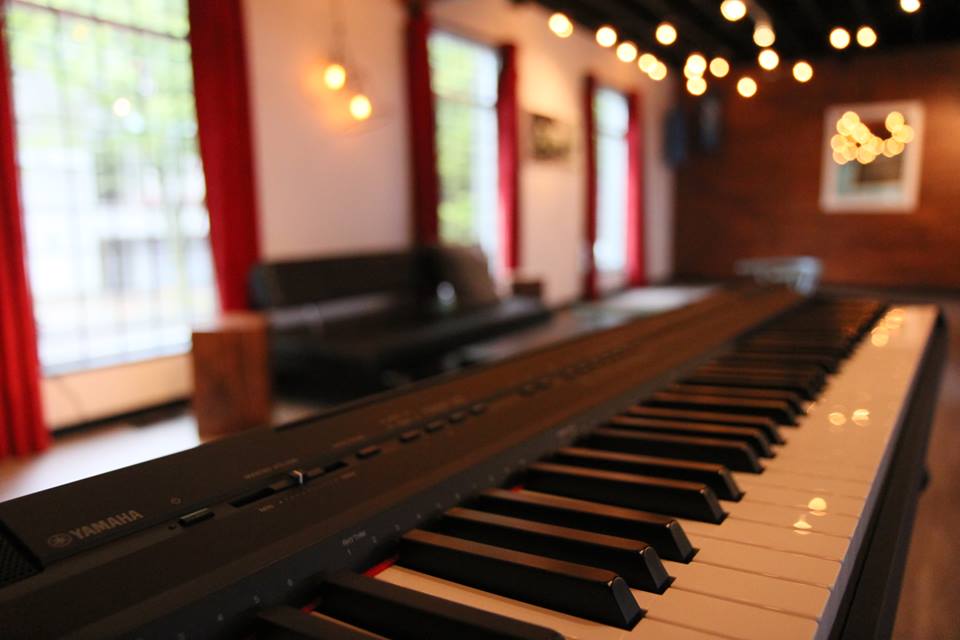 Overall, the versatility of this keyboard in both live, studio and practice environments is a quality appreciated by professional industry keyboard players.
If you wish to give it a try, we are now renting the Yamaha P-105 for only $4/hour or $10/session here at Soundhouse Studios! We provide you with the keyboard, stand, power cable, sustain pedal and a cable to connect to the P.A. How convenient! 🙂