Music Lessons
Our instructors are approachable and friendly, and make sure you learn the FUN way! We have very flexible scheduling and all our lessons take place in our professional studio rooms. We currently offer guitar, drum and vocal lessons, and will expand to more instruments soon. All our lessons are $60/hour, and students of all ages and skill levels are welcome.
"The lessons are really fun, clear, and – most important – have helped me improve my playing each week. Highly recommended!"
– Matt Gibson, student
Leah Barley – Vocal & Performance Instructor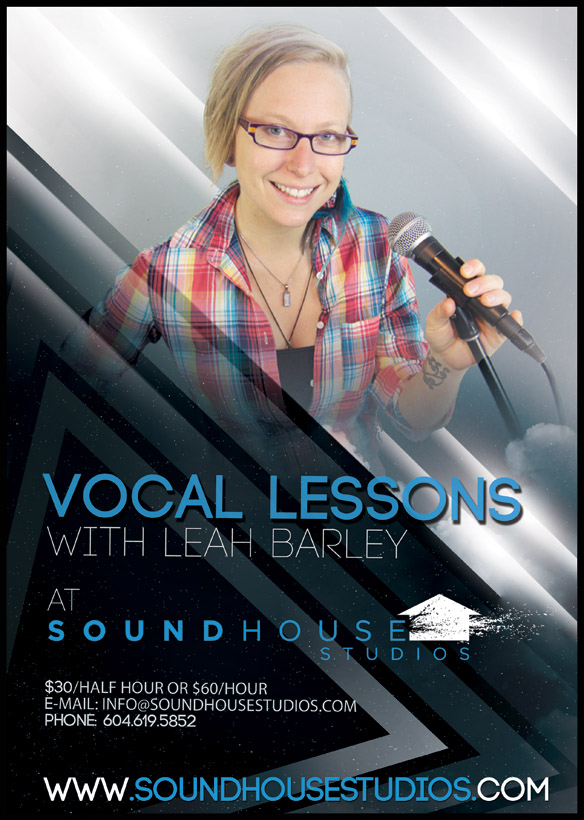 Vocalist Leah Barley has been singing and performing for eight years and touring for two. She's played in a wide variety of environments – from festivals across Canada, to pubs, cafes, and even yoga studios. Leah's approach to teaching is all about you! What do you want to learn? What are your goals as a singer? Do you want to perform on stage or just sing with more confidence in the shower? Whatever it may be, Leah creates a welcoming space for you to explore and improve your voice in a fun and dynamic way.
Please contact Soundhouse for more information at 604-875-8785 or info@soundhousestudios.com