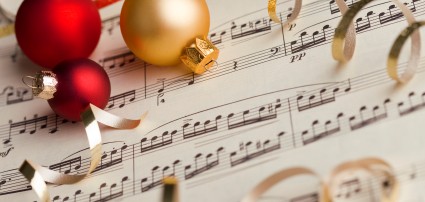 "Jingle bell, Jingle bell, Jingle bell ROCK"!
With Christmas just around the corner, musicians all over the world are writing up their Christmas songs, or work on covers of some great holiday hits. It's the only time of the year where most musicians write about the same thing. It provides a great sense of unity and collaboration between fellow musicians.
Almost every artist releases one Christmas song a year due to the amount of listeners. It's great publicity! Ever wonder why these songs get played the day after Halloween? It's because people demand it. I mean, let's be serious, they are enjoyable songs to most people! They're calming, beautiful and emotional for the most part. It's a nice break from your typical songs that you hear on a day-to-day basis.
It's a great time for an artist to shine. Especially for those who are just starting up their musical career, Christmas could be your kick-starter! There are so many songs out there to choose from and it's also very easy to write up your own because there's so much to talk about. That's the great part about Christmas, and that's why musicians write these songs at a fast rate. Maybe your originals aren't as appealing to all age groups, but Christmas music is. You can get some really good exposure this way and show everyone your talent. If they like what they hear, they will most certainly come back to hear more of your songs.
It's also a great time for shows! There will be lots of fundraiser opportunities as well as festivals to play at, where once again you can get a lot of exposure. A lot of great connections could also be discovered.
Spread the holiday joy with Christmas music! It's nice to see musicians working together to create something beautiful each year.
Happy Holidays!