Registration for 2015 Spring Break music camps is now open!
No musical experience necessary!
Great for ages 10-16, this spring break music camp has a different theme and new activities each day. In small groups, our experienced music facilitators will expose students to a diverse selection of musical instruments and techniques. There will be hands-on experimentation, creation, and fun activities for all participants.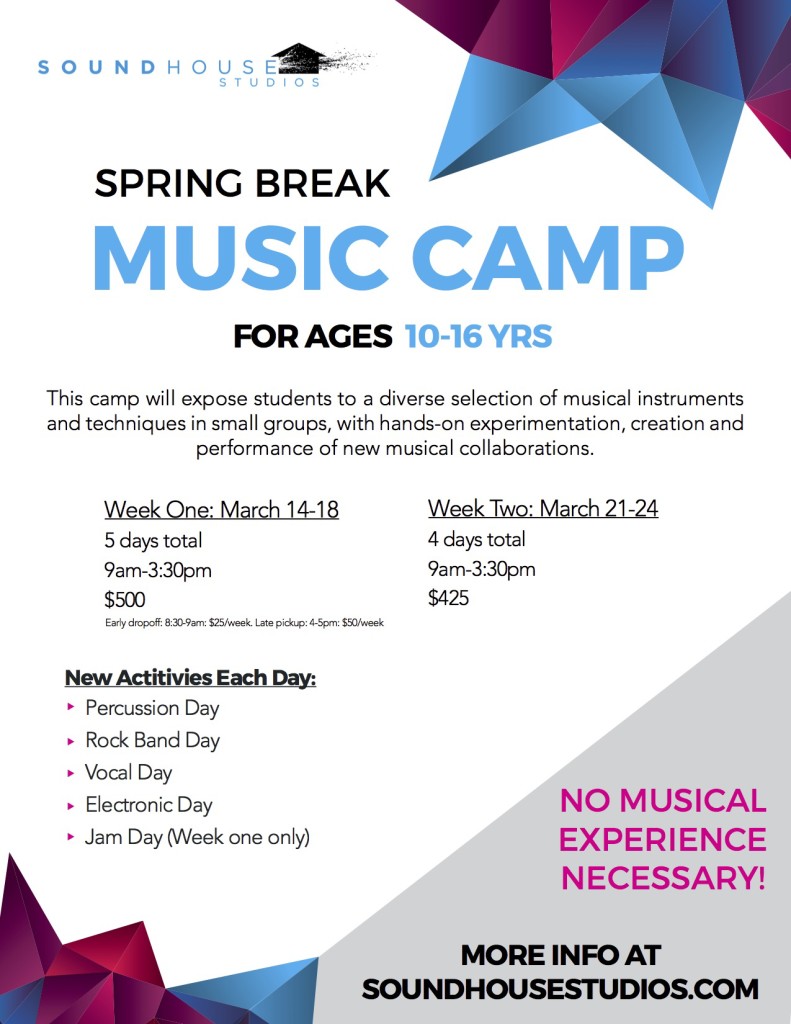 Upon completion of this program students will:
– Have been exposed to a wide range of musical genres and techniques from around the world
– Understand basic musical counting
– Be able to communicate, compose and perform effectively within a musical ensemble
– Understand the importance of teamwork and communication in musical collaboration
– Be confident taking a leadership role in any band, group, choir or musical ensemble they may work with in the future

5 Day Overview
Day 1- Percussion Day
On day 1 students will experiment with percussion instruments including hand drums, drum kit and a variety of hand percussion toys.
Theory: basic counting of beats, bars and phrases
Practice: standard percussion patterns on a variety of instruments
Performance: drum circle percussion jam
Day 2 – Rock Band Day
Day 2 will give students the chance to play every instrument in a traditional rock band: guitar, bass, keyboards, drum kit and vocals.
Theory: communicating verbally and non-verbally in a musical ensemble
Practice: learn simple patterns, chords and rhythms on all the rock band instruments
Performance: perform and film one pop/rock song with these instruments
Day 3 – DJ/Electronic Day
On Day 3 students will have the chance to get their hands on some of latest DJ gear and electronic instruments including samplers, synths, turntables and effect processors.
Theory: PA/mixer/amp basics… "how to plug all this stuff in and make it work"
Practice: discover unique sounds and effects through hands on experimentation
Performance: create a musical piece or performance that includes any combination of electro-acoustic instruments
Day 4 – Vocal Day
Day 4 will focus on the use of the voice to talk, sing, scat, rap and beat box.
Theory: traditional and non-traditional ways to use your voice
Practice: mic technique and stage presence
Performance: musical composition that uses only the voice (naturally or electronically processed)
Day 5 – Jam Day (Week 1 only)
The final day will be a review of all previous topics followed by a collaborative "jam" that could include any or all of the instruments and techniques used earlier in the course.
Theory: organizing a "jam session" that is focused and still open and free for improvisation
Practice: compose/organize a structure for our final jam session
Performance: a semi-structured "jam" that features as many of the instruments as possible to create a diverse and interesting musical piece
To register, please call Karen Gautreau at 604-839-6649.
Early drop-off and late pickup also available.